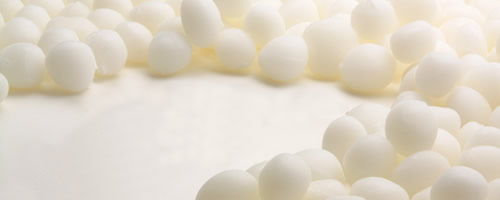 APAO (Amorphous Poly Alpha Olefin) is a copolymerized thermoplastic olefin based polymer. REXtac has three grades of polymer – propylene homopolymer, propylene-ethylene copolymer, and propylene-butene copolymer. It is possible to supply products that meet various market needs due to the low molecular weight and excellent thermal stability. We manufacture polymers with enhanced cohesive strength by controlling crystallinity with our own donor technology.
Properties

Good adhesion and compatibility with other polyolefin substrates such as PP and PE.
REXtac APAO can be used "neat" (without formulating) for assembly applications.
Abundant raw material feedstock supply.
Easy to mix with asphalt and inorganic fillers and has good dispersion and molding.
REXtac APAO merits
The main packaging form is a patented technology - briquette ("potato") with less blocking compared to a pellet.
REXtac APAO can also be manufactured in various forms such as pellets, pillows, and inclusions.
REXtac has the capability to blend tackifire and other adhesion enhancers to change specific performance properties.
APAO can be "grafted" to enhance adhesion with various metal.
Reduced cost per square meter due to relatively low density.
Wide application methods (spray, pump, roll coat, and slot)
About Hot-melt adhesive(HMA)
Hot-Melt Adhesive is an adhesive that bonds by melting and applying heat.
Since it does not use solvent, HMA is safe and pollution-free adhesive for humans and enviroment.
Comparison of APAO based HMA and rubber based HMA
| | APAO based HMA | Rubber based HMA |
| --- | --- | --- |
| Stickness at room temperature | None | Yes |
| Affinity with olefin based materials | ○ | △ |
| Relative density | 0.83 | 0.94 |
| Thermal stability | ○ | △ |
| Smell | ○ | △ |
| General composition(Polymer/Tackifire/Oil) | 75-85/15-25/0 | 20-30/50-60/20-30 |
| Aged adhesion(50℃×2weeks)vs ventilation of PE | Stability | There is a tendency to decrease when there are a lot of oil |
| Oil bleeding | None | Yes |